One of the reasons I have been a bit MIA on lovemin is, my husband, Chris and I jetted off to Hawaii!! It was the perfect 10 day escape from the cold, dreary Wisconsin winter and an amazing opportunity to soak up the beauty that is Hawaii and spend some really good, quality time together.
The first thing you should know about Hawaii is, you will never have enough time to do everything. Splitting our time on the islands of Oahu and Maui, we had a healthy mix of exploring and relaxing beach days. Here are my top 5 favorite moments in Hawaii.
1. Sunrise whale watching tour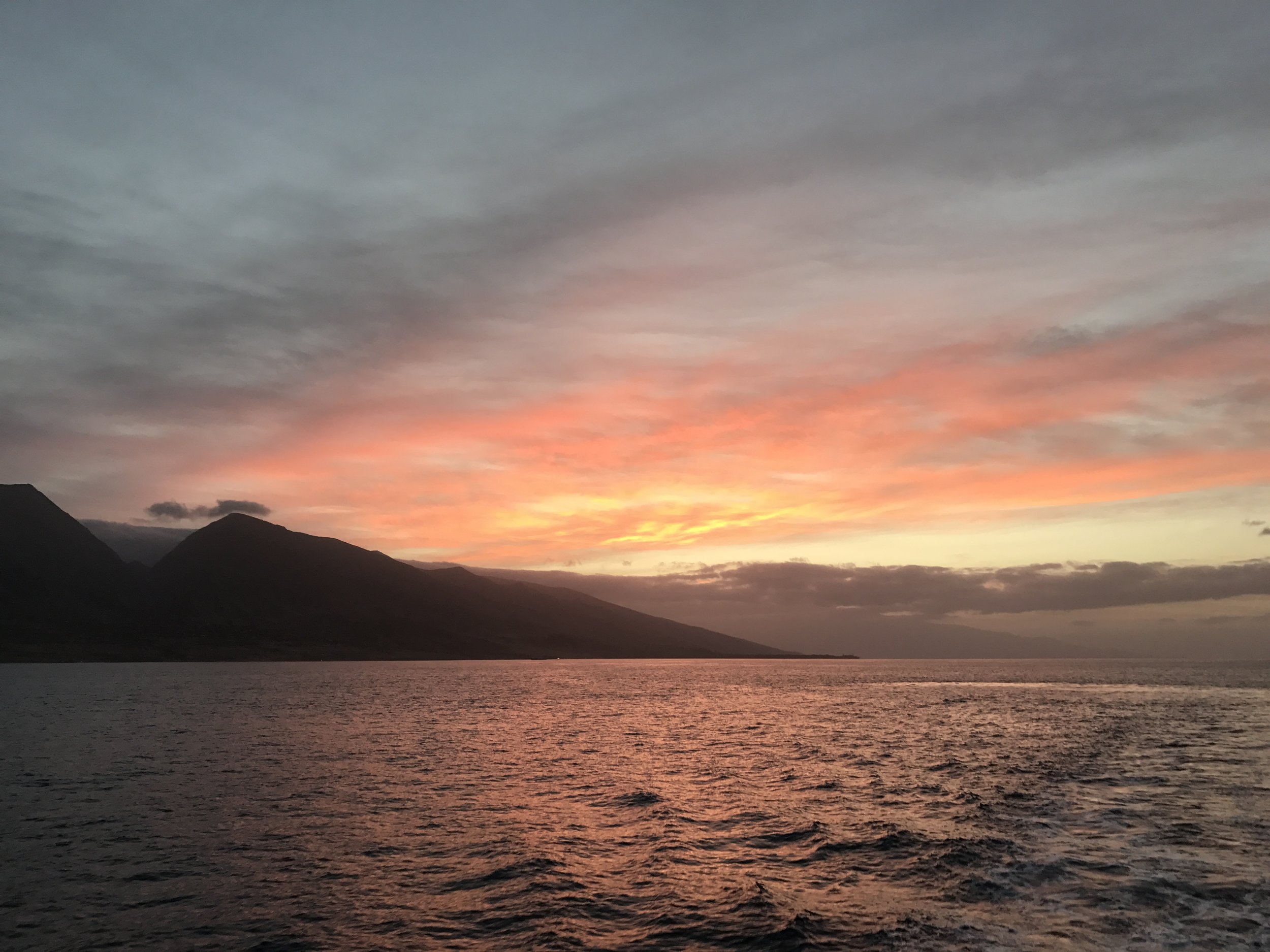 On the way to our condo in Kaanapali, Maui we pulled off at the first lookout point to find an expansive view of the ocean. Staring into the distance we were immediately greeted by whale tails, flippers, and a few jumps along the horizon line. Chatting with a naturalist from the Pacific Whale foundation, who was there to educate fellow whale watchers during the prime time of whale season, doing a whale watching tour quickly became a high priority.
Upon recommendation, we chose to do a sunrise whale watching tour with the Pacific Whale Foundation and oh man, I cannot recommend this more highly. Number one, you get to watch the sunrise over Haleakala from the water (insanely beautiful). And number two, with a 5:45 am check in time, this tour is way less popular giving you a better opportunity to roam freely about the boat without fighting the crowd for a spot to see.
Within 5 minutes of being outside the Lahaina harbor, we witnessed a 50 foot, humpback whale propel itself out of the water. With a few flips of it's tail, this massive creature breeched a mere 75 yards from our boat. The boat went up in cheers, goose bumps covered my entire body and I looked back at Chris mouthing, "wow." This was an impressive start to a compelling and awe-full two hours. Humpback whales do not travel in packs, but during whale season aka mating season a group of males and one female will travel together in what is known as a "competition group." In this group, the males lunge at each other, emit splash screens, and slap each other with their flippers, all in attempt to win the role as mate for the female. Much thanks to our captain who spotted a group at the beginning of our tour, we had the pleasure of following along and witnessing the battle until the time we had to return to harbor.
Hearing Chris say, "whoa" about a hundred times brought a smile to my face and the assurance that this was going to be a highlight of our trip.
2. Old Lahaina Luau
Whenever I plan a trip, I research on TripAdvisor like it is my job. And this time, it paid off immensely. Having heard that Old Lahaina Luau is the best one on Maui, I checked availability to find out they were completely booked for weeks. But thanks to a TA forum, I received the recommendation to call and get on the waiting list; they said the chances of getting in were really high. Sure enough, 3 hours after putting ourselves on the waiting list, we were in!
Upon arrival, I could immediately understand why Old Lahaina Luau is the best on the island. Handed a mai tai, and adorned with a lei and a flower for my ear, we were given a quick overview of the grounds and shown to our table. With the circular stage in the middle, there wasn't a bad seat in the house. But the most stunning aspect was the backdrop; the luau was situated directly on the oceanfront.
With the sun starting to set in the background we sipped on fruity cocktails, learned the hula, and watched the kalua pig unearthed from the underground oven. From the ambiance, to the excellent service, plethora of tasty cocktails and a buffet stocked with Hawaiian favorites like kalua pork, poi, and mahi mahi, everything was top notch.
The show began with hula dances and stories told, transporting us through Old Hawaii as we learned about the history of the beautiful Aloha state. Each hula performance was as encapsulating as the next.
What made this luau such a highlight was that it wasn't just dinner and a show; it was a complete, extravagant experience. If you're going to Maui, this is a definite must.
3. Delicious food
Along with the sun warming my skin and the sound of the ocean, many delicious meals are what I miss about Hawaii. Trying local food and drink is one of our all-time favorite aspects of vacation.
Having tried a wide variety of Hawaiian cuisine, I am now officially obsessed. From acai bowls at Haleiwa Bowls, to a plate of rice adorned with melt-in your mouth pork belly at the Tin Roof, a tiny strip mall carry-out restaurant run by Top Chef alumnus Sheldon Simeon, to korean street tacos from Duke's on Waikiki Beach, to the all-time fave of kalua pulled pork at the Old Lahaina Luau and Aloha Mixed Plate – we were in foodie heaven.
And let's not forget the beverages! Leilani's in Whaler's Village had us coming back multiple days for their Aloha Hour mai tais boasting fresh pineapple juice perfectly balanced with rummy goodness. Maui Brewing company spoke to my beer snob, husband's heart with lots of hoppy goodness and well balanced brews. In fact, we might've gone back 3 times. But surprisingly enough, my most memorable drink was juice! Abbreviated POG, a passionfruit, orange, and guava juice, this sweet, subtly acidic drink was a highlight of our daily breakfast on the lanai. (And guess what?! I found some in TOSA!!! Thank you Ono Kine, a Hawaiian restaurant sure to become one of our go-to take out spots had POG!)
4. Watching surfers
I first learned how to surf 11 years ago when I went to Maui with my family, and have since shredded some gnar (haha) on our trips to Puerto Rico. But surfing this time around was not as much of a success story. The day we rented boards on Waikiki beach (great spot for beginners on Oahu) the waves didn't break, making it quite difficult to catch a ride in to shore. So instead of crushing it on the waves, we left it to the pros and admired the craft at one of the best surfing spots in the world, Honolua Bay on Maui.
With a typical ride being about 8 seconds, this is one of the hot spots because surfers can enjoy a lengthy ride of up to 1 minute. Not to mention when the northern winds are right, the waves can get to immense heights making this an opportune spot for many surf competitions.
Chatting with a few locals, we got a few inside tips and the recommendation to hike down a little trail leading us to the edge of the water. Standing on the rocks we had a greater understanding of the height of the waves and the work it takes for surfers to get out there. I could have sat there all day watching the surfers work their magic. If I lived there, I'd definitely want to be a part of the surfer community, where my days off were determined by the surf report.
5. Watching the sunset
The last night of our vacation, Chris and I planted ourselves on the beach to watch the sun slip behind the island of Lanai. As the brilliant orange ball of fire made its journey through the clouds towards the ocean, we sipped champagne, shared highlights from our trip, and talked about the future. I have always been a sucker for sunsets, so the epic view itself was a highlight, but sitting there next to my husband of 5 years, I got a little emotional.
Vacations are a beautiful thing because not only do they take us to new places, but they break us out of our everyday routines and give us an opportunity to reflect. Being able to spend 10 uninterrupted days with my husband who works incredibly hard to provide for us got me choked me up; then tack on thinking about the future of our little Larsen family and introducing the idea of babies, I was overwhelmed with thankfulness for these moments with just us. Hands down, this moment was the most precious memory for me.
I am so thankful for this incredible trip with my husband, and cannot wait for our next adventure.