_ Study _
Matthew 11:28-30
"Come to me, all you who are weary and burdened, and I will give you rest. Take my yoke upon you and learn from me, for I am gentle and humble in heart, and you will find rest for your souls. For my yoke is easy and my burden is light."
_ Read _
Sitting on the couch, trapped beneath a blanket and a growing mountain of soggy Kleenexes, I reach for my steaming cup of lemon ginger tea. I dip the tip of my pointer finger into the pale yellow liquid hoping it has cooled just enough to avoid scorching my tongue but stayed warm enough to relieve my cracked, dry throat. Breathing through one open nostril, I smell the comforting scent of garlic coming from the kitchen and hear husband sniffle as he dices a red onion and sends it to crackle and pop alongside the sizzling garlic—each component working together to form a batch of homemade tomato basil soup.
I hate being sick. I hate the way it makes me feel weak, the way it limits my abilities, and makes me depend on my husband when I can't seem to drag my aching body off the couch to make dinner. But I'd be lying if I didn't admit loving the way Chris so tenderly places a delicious bowl of soup and a gooey grilled cheese for dipping on the TV tray in front of me.
With one spoonful of the creamy tomato soup, I wonder, why do I resist depending on my husband when I know the plethora of its benefits?
For some reason, I think dependence has gotten a negative connotation—as if leaning on someone, or asking for help is a sign of weakness. As a result, we try to do everything on our own. But why? Why would seeking support ever be a bad thing?
I have learned that I often act as though I would rather exhaust myself and maintain a sense of pride, instead of reaching out for assistance. I feel silly telling my husband I'm too sick to get off the couch, or asking my sister if she can check in on me because I'm feeling overwhelmed. I'm like a stubborn toddler- I want to be able to do it all, all by myself.
When I'm struggling with anxiety or something is weighing heavy on my heart, I act this same way within my relationship with the Lord. I talk to Him about my struggle, I ask Him to help me, but ultimately I try to handle it myself. But that is not the way of Matthew 11:28-30.
Jesus says, "COME TO ME…and I will give you rest." It's easy to remember the truth that He will give us rest, but not so easy to take the action that He is asking for. It requires a selfless, humble action in which we stop trying to do it on our own, and GO to Him. But, when we do, and we depend on Him to help us in our time of need, we recognize that the yoke He talks about is a strategic way for Him to help us carry our load.
Friends, why do we try to do everything on our own when we get to rely on someone who is always worthy of our dependence?
Depending on Jesus leads to rest that is beyond relief from exhaustion or weariness. It's resting in our identity—we are children of God, heirs to His kingdom (Romans 8). It's resting in our worth—we are fearfully and wonderfully made (Psalm 139:14). It's resting in our strength—with Christ we are more than conquerors (Romans 8:37). It's resting in our salvation—no matter what we've done, we cannot be separated from His love (Romans 5:8).
Together, let's learn to depend on our Heavenly Father who doesn't just provide the tools that lead us to rest; He is both the means and the end.
_ Practice _
Click on this link to read an excerpt from "We Try To Go It Alone" – a chapter in Hayley Morgan's book Preach to Yourself.
After reading, ask yourself the following questions:
Am I resistant to depending on others – both in my human relationships and with the Lord? Or is being dependent a strength?

In what area of my life might I be refusing to allow God to be my strength, provision, or sustenance?

What is one way I can better lean on my support system? Brainstorm and then take action. Ex: Ask a friend for encouragement, invite your family to help by delegating something on your to-do list, write a note to the Lord in your journal telling Him the area you are struggling with and visualize yourself taking His light and easy yoke upon you, lightening your load.
Huge thanks to Hayley and her team at Zondervan, who have given me permission to share this excerpt with you. This book has been incredibly impactful in my life – I highly recommend you read it in entirety. Tap here to buy it over on Amazon.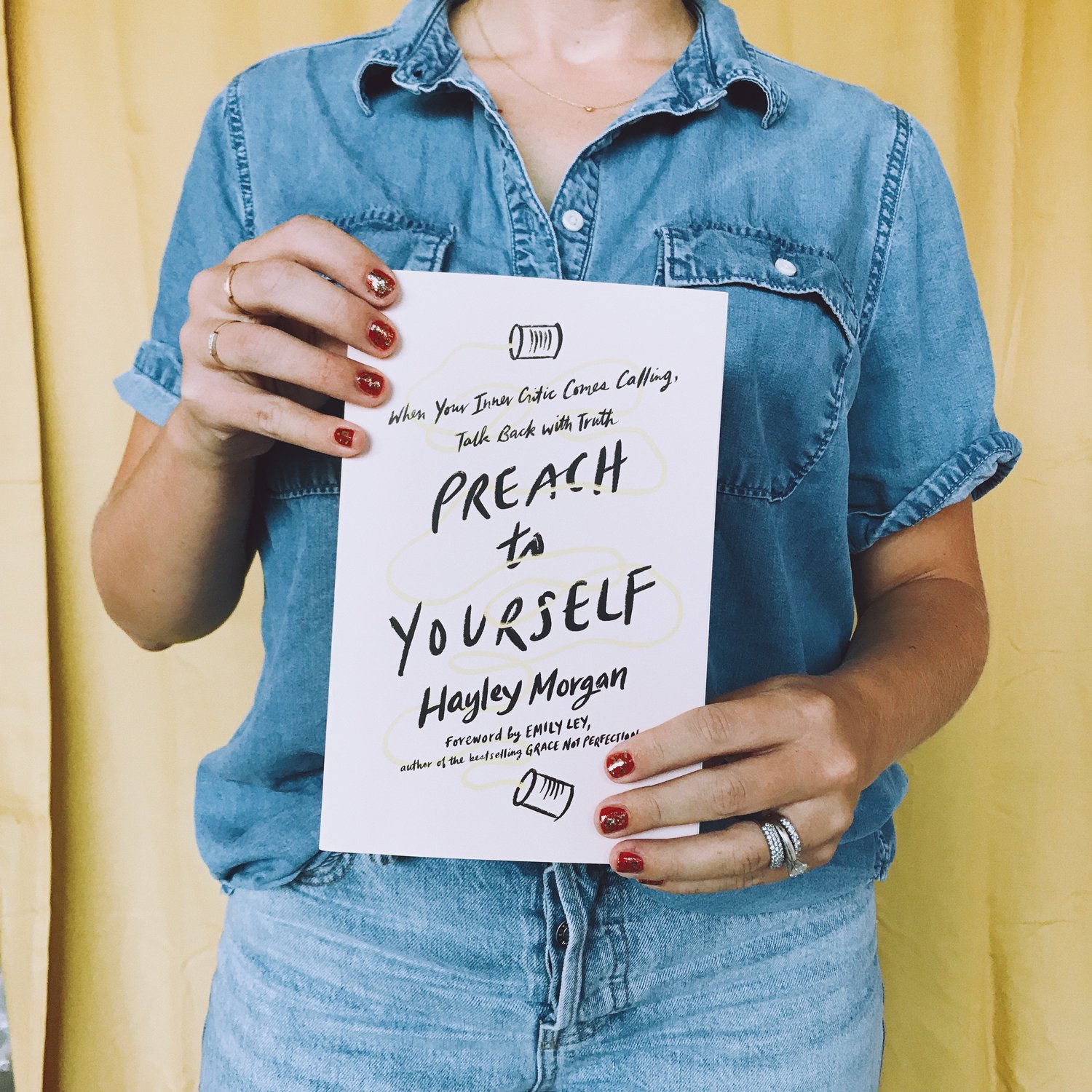 Guess what?! I love this book so much that I am giving away a copy of Preach to Yourself over on my Instagram! Tap this link, head to the post with this image, and enter to win!

The giveaway is open through 12/10 - winner to be announced 12/11.
This devotional is part of the A Restful Advent series.
To read more like it, tap this link
or tap the button below to receive the rest of the series right in your inbox.