I love party planning; largely because I get to specialize someone, but also because it challenges me in some of the best ways. I get to use my organizational skills in putting together spreadsheets, menus, and thinking through logistics. And then I also get to tap into my creative side - creating fun games, decor and making flower arrangements. Some of my favorite parties to throw were my Super Hero Murder Mystery Party, 1920's Birthday Party, my sister's brunch and bubbly bridal shower, and now, her baby shower.
Every little detail, every second of work that went into the planning was worth it when she expressed how pleasantly overwhelmed she was. She loved every bit. I'm so thankful for my sweet mama who was my partner in crime in creating this elegant baby shower, and I can't wait to share the full scoop with you. Enjoy!
Invitations
Without knowing the name of my sister's baby girl, we often refer to her as baby K - thus, "Make Way for Baby K" was born. After landing on the wording, it was time to pick out invitations. Instead of ordering custom invitations, this time I decided to make them on my own. This was both super fun and extremely challenging, but I was pleasantly surprised with how they turned out. I created the design via canva (a free design website) and then downloaded the designs to a pdf to print online via vista print. It was a really affordable option, both programs were easy to use, and the invitations themselves also came with envelopes which was a nice bonus.
After creating the invite design and uploading to vista print, I realized I had completely forgotten to add the registry information. Oops. Instead of re-creating the entire design, I decided to simply design a business card with that information. It worked out perfectly; it only added a few extra dollars and saved me the time and effort of completely reworking the design.
decor
Decorations are always my favorite part to brainstorm. I asked my sister if she wanted a specific theme for the shower and all said was, "Elegant. Pink. Gold." Those three words became my theme for the shower. Overall I wanted it to feel like a classy, elegant grown up shower - but to also include the cutesy baby girl elements. I kept it simple with baby pictures of my sister, a onesie garland on the mantle, pink and white bouquets spread throughout, and a few pops of gold. Aren't these moccasins and the lace crown adorable?!
Flower tip: Trader Joe's is THE BEST place to shop for flowers. Instead of buying pre-made bouquets, I bought a hodge-podge of pinks, whites, and greens and made the centerpieces myself. When my husband orders a bouquet of flowers for me, he easily spends $40.00 per bouquet. Well, I spent $40.00 for the entire loot, and built 5 centerpieces. I did this for my sister's bridal shower as well - hands down most affordable, yet still strikingly beautiful, option.
In case you loved some of the elements - here are a few links:
Gold moccasins - Gold lace crown - pink/gold tissue confetti - letter board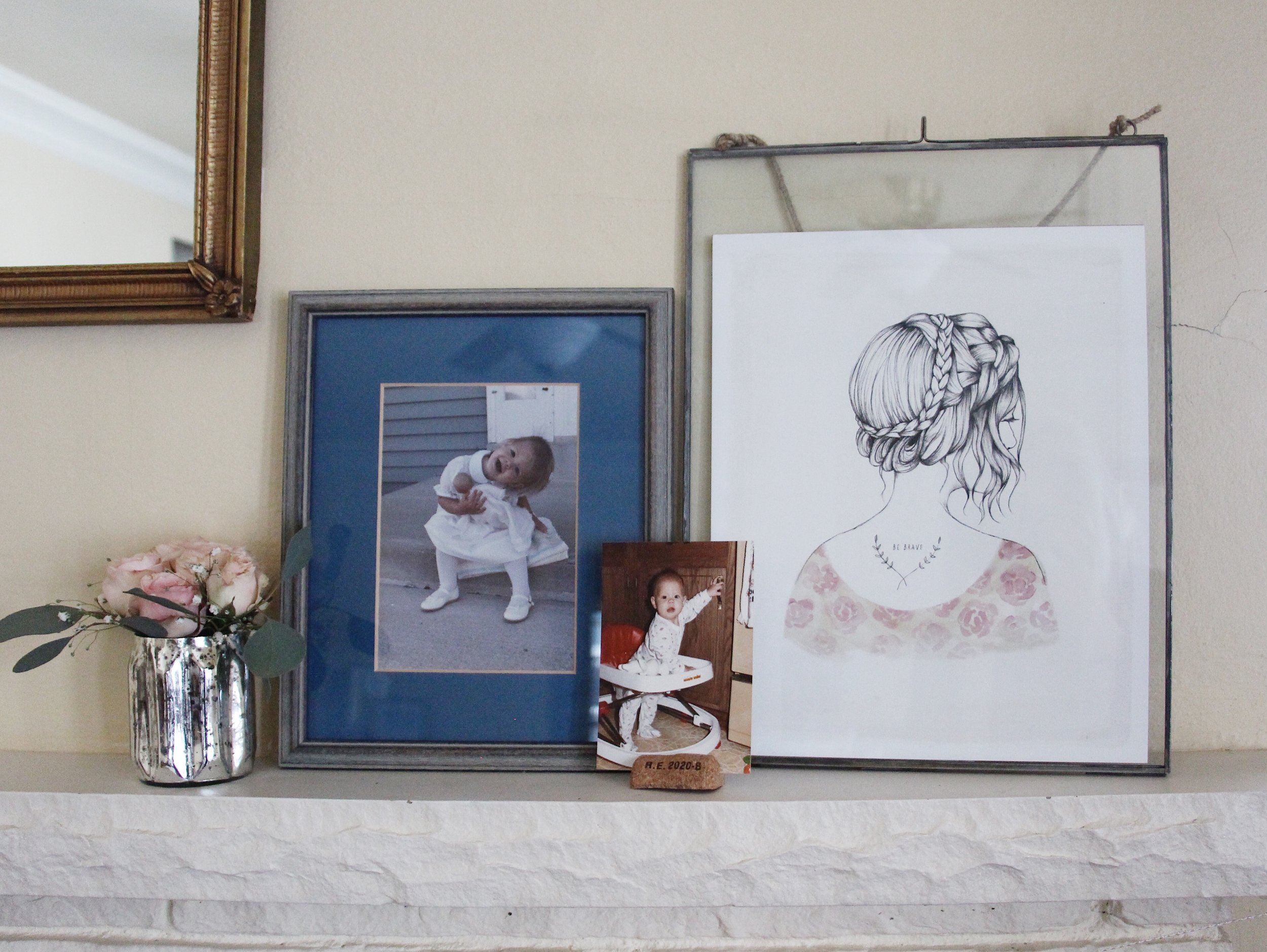 Food/Drink
Since the party took place at 1:30pm, the menu was a simple spread of snack-type items.
Here's what we served:
- Salad (spinach, dried cranberries, walnuts, gorgonzola and balsamic dressing)
- Cowboy caviar with Frito scoops and tostitos
- Fruit kabobs
- Cheese and crackers
- Veggie tray
- Chex mix (my sister's favorite)

For the dessert, we served individual mini pies in small mason jars. During present opening time, I popped the homemade (not by me, we got these catered) pies in the oven for a few minutes to warm them up; then I served them on a tray to the guests. They had a choice between raspberry or apple pie. They were a hit!

Since the party was in full swing, I didn't get pictures of the food spread or the pies - oops.
favors
I was SO excited about these favors. My mom and I debated whether to go the practical item route or to give something edible. As you can see we went for something edible. We wanted to pick a treat that was out of the ordinary and equally adorable and pink macaroons were the perfect fit. I chose 25 raspberry cream and 25 raspberry champagne cream, delicately pink macaroons from our local French restaurant, Le Reve. We picked them up the morning of the party, popped them in these tiny boxes and finished them off with a pink bow. These were a tasty highlight of the party. Lucky for me, we had a few leftover. YUM.
Games & Activities
This was probably the hardest, but also the funnest (I know it's not a word - but I still love it) part to decide on. I knew I didn't want to go the "figure out what kind of chocolate is in this diaper" or "taste the baby food" route. I wanted to stay within my elegant theme, so I chose some non-cheesey games to go along with it.

Wisdom for the wee hours - This was a little station where guests were asked to write words of encouragement for Steph to read while she feeds baby girl in the wee hours. In hindsight, I should've announced this more as it got a bit lost in the shuffle.

Price is Right - I got this idea from a friend's baby shower and LOVED it. My mom and I purchased a random selection of baby items at varying prices with the goal that the guests would have to match the item to the price. We held up each item so guests could make an educated guess on the corresponding price. Some of the items were pretty tricky! The person with the most correct prices, won a prize.
Mommy or Daddy - This was a game I put together based on the traditional "He said/She said" bridal shower game. I made little paddles, and read through questions like "Who was 8 lbs 4 oz?" Was it mommy or daddy? The guests then held up the side of the mini-paddle to portray their thought as to whether it was Mommy or Daddy. My sister then held up the correct answer. We proceeded in this manner for 8 questions and then I switched it up a little bit. I wanted to find a way to incorporate my sister's husband into the shower without him being there and decided the best way to do this was to incorporate him in a game via video. I recorded a video of my brother-in-law answering several questions and then asked my sister the same ones. Guests again held up their paddles depending on whether they thought Mommy would match Daddy's answers.
While the guests were tallying up their score of correct answers, I announced that I had asked Matt a few additional questions. I asked him "What excites you most about becoming a dad?" and "Why do you think Steph will be a good mom?" I wanted to bring a sentimental, personal piece into the shower and give my brother-in-law the opportunity to share something with my sister. This was a tender moment.
Diaper Raffle - This one is a no brainer. Tell guests to bring a pack of diapers to be entered to win a raffle prize! It's a great way to build up some diaper stock for mom and dad-to-be and an easy, no planning required activity. My sister picked a winner at the end of the shower and we gave them a prize.
Prizes - We kept these super simple. My mom bought a few cutesy vases from Hobby Lobby and I snagged a few of my sister's favorite chocolate bars from Trader Joe's. In order to get the most bang for my buck, I used these vases for the flower arrangements. Double win for me and for the prize winners who walked away with a new vase full of pretty flowers. We also added in a few extra fun things (bottle of champagne and sparkling juice) for the diaper raffle winner.
Call me a perfectionist (I know, I am...) but I wanted all the paper products to match. So using my new favorite tool, canva, I created Price is Right cards, wisdom for the wee hour notecards, and mommy/daddy paddles that matched the invites. Made me feel like a profesh ;)
Reflecting
It was an incredible honor to host and plan my sister's baby shower with my mom. It was a lot of work, but a large part of that is because I'm quite a perfectionist when it comes to party planning, and I wanted to pour my heart and soul into it because it's the one time in my life where I get to throw a baby shower for my sister.
It's really hard to believe that all that is left is for baby girl to arrive. Thinking about that brings all sorts of emotions to the surface, but throwing this shower and witnessing the ginormous smile on my sister's face, donned with her adorable baby bump, was a valuable component of preparing my heart as well. I know that the spontaneity and one-on-one time with my sister will change, but I am confident that my irreplaceable friendship with my sister will adapt and be stronger than ever.
little baby K, I cannot wait to meet you. You are already so loved, and I cannot wait to spoil the heck out of you. You have a phenomenal mama and you are going to love her immensely.
- -
If you're throwing a baby shower anytime soon and want to pick my brain or use any of the designs I created, send me a message!
I'd be happy to share the wealth.