After my 1920s themed birthday party, I basked in the success of a joy-filled soirée and thought – what a monumental way to enter my 30s. That was until one morning I yanked tissue paper out of a gift bag to find Ellen sweatpants accompanied by a note that read, "What better way to celebrate your 30th birthday than to get your dance party on…" With wide eyes I exclaimed, "Are we really going?!" I could not believe it; I was going to the Ellen show!
The surprise
Back in January my sister decided, "Min is going to the Ellen show for her 30th birthday." With a trip to California already in the works for my cousin's wedding, the set up was perfect. All that was needed were tickets to the show. Valiantly, my sister wrote to Ellen telling her how much I loved her and how this would be the perfect 30th celebration. But time ticked away with no response and called for a new approach. My mom stepped in and reached out to her brother who lives in Los Angeles saying, "Help! Do you happen to know anyone who could get us tickets for the Ellen show?" And then the magic happened. Praise God for a friend of a friend who works in the show business, three VIP tickets were secured with our names on them.
With flights purchased and everything arranged, (even the duration of the trip pre-determined by the Ellen show, much to my surprise) all that was left was to determine how they wanted to reveal the surprise and wait for the day to come...
Opening presents at my family birthday dinner, I was given a note that said, "The celebration doesn't stop! There's more ahead to come, so hold on to your hat till then we're going to have some fun. So look around and you will find a note for every day. We love you, oh so very much, Hooray, it's your 30th this May!" A little confused and pleasantly surprised, I was sent off to find my first note. Attached to a bottle of nail polish, the note alluded to a celebration that was to continue all the way to California, where we were headed later that week. Not quite sure what that meant, I was flattered when each day from there on out I found a note accompanied by a sweet treat like candy, or my favorite, a gift certificate to Cranky Al's, the local donut shop. I had no idea what was to come when we reached California.
On the flight to Burbank I started to get nosey. What was this mysterious celebration? What were we doing? When will I know? And in the back of my mind I dreamed, what if we're going to the Ellen show? Are we going to the Ellen show?!? My poor sister, stuck next to me on the flight, was about to poke her eyes out as she feared the surprise was unraveling. But with a little help from my mom, the fam successfully evaded the question and convinced me to simply wait.
Finally, the morning of the infamous celebration came, and then this happened…
Never did I ever think I would experience what it felt like to squeal the words, "I'M GOING TO THE ELLEN SHOW!!!!!" My incredible family pulled off an epic, dream-come-true surprise.
Going to the show: the inside scoop
Once you have tickets, attending the Ellen show is an incredibly smooth process. We were hardly there for 5 minutes after checking in and receiving a VIP pass, when we were whisked across the street to the studio. Getting more and more animated with every inch closer, I could not contain my excitement. Clearly…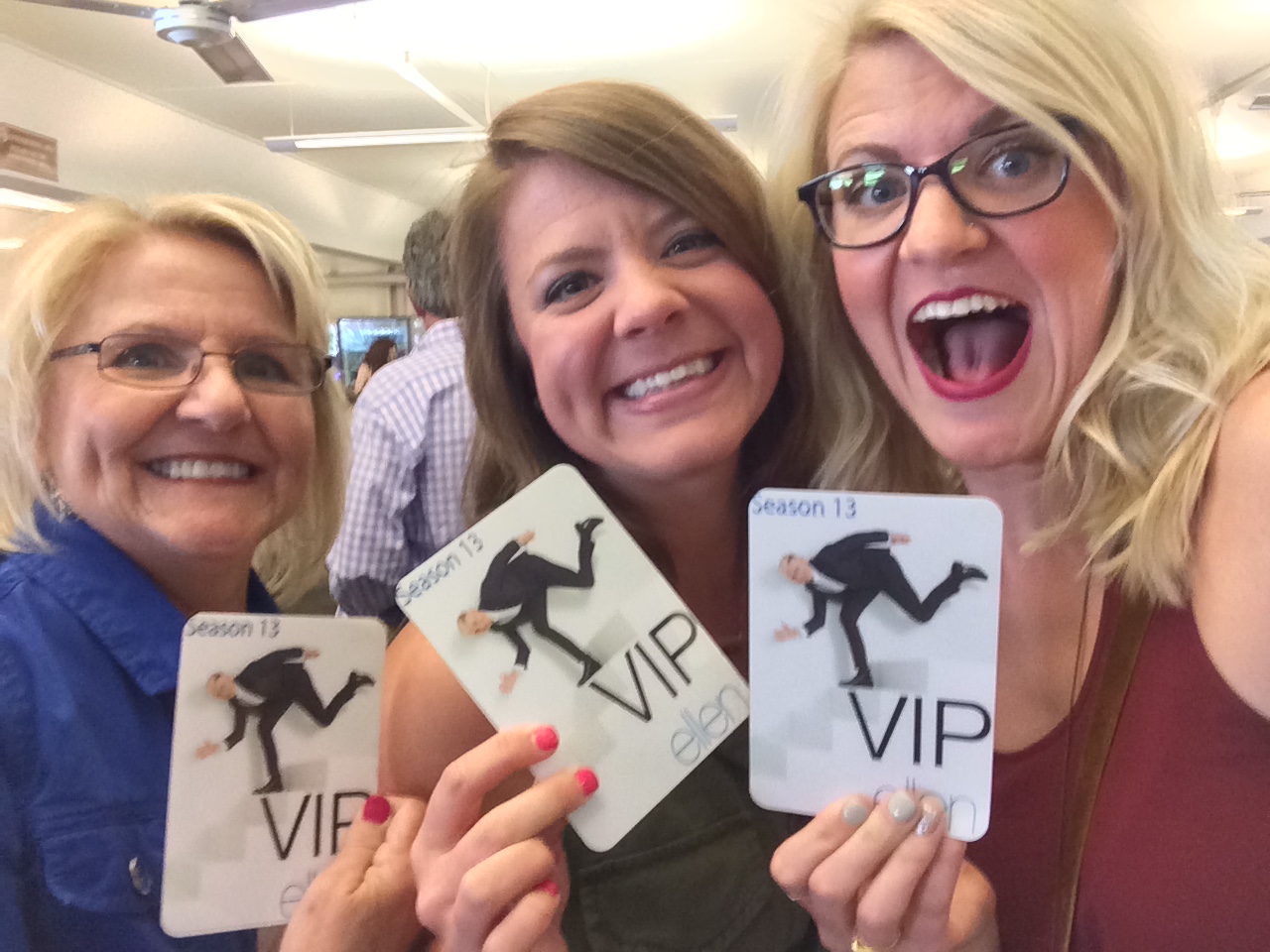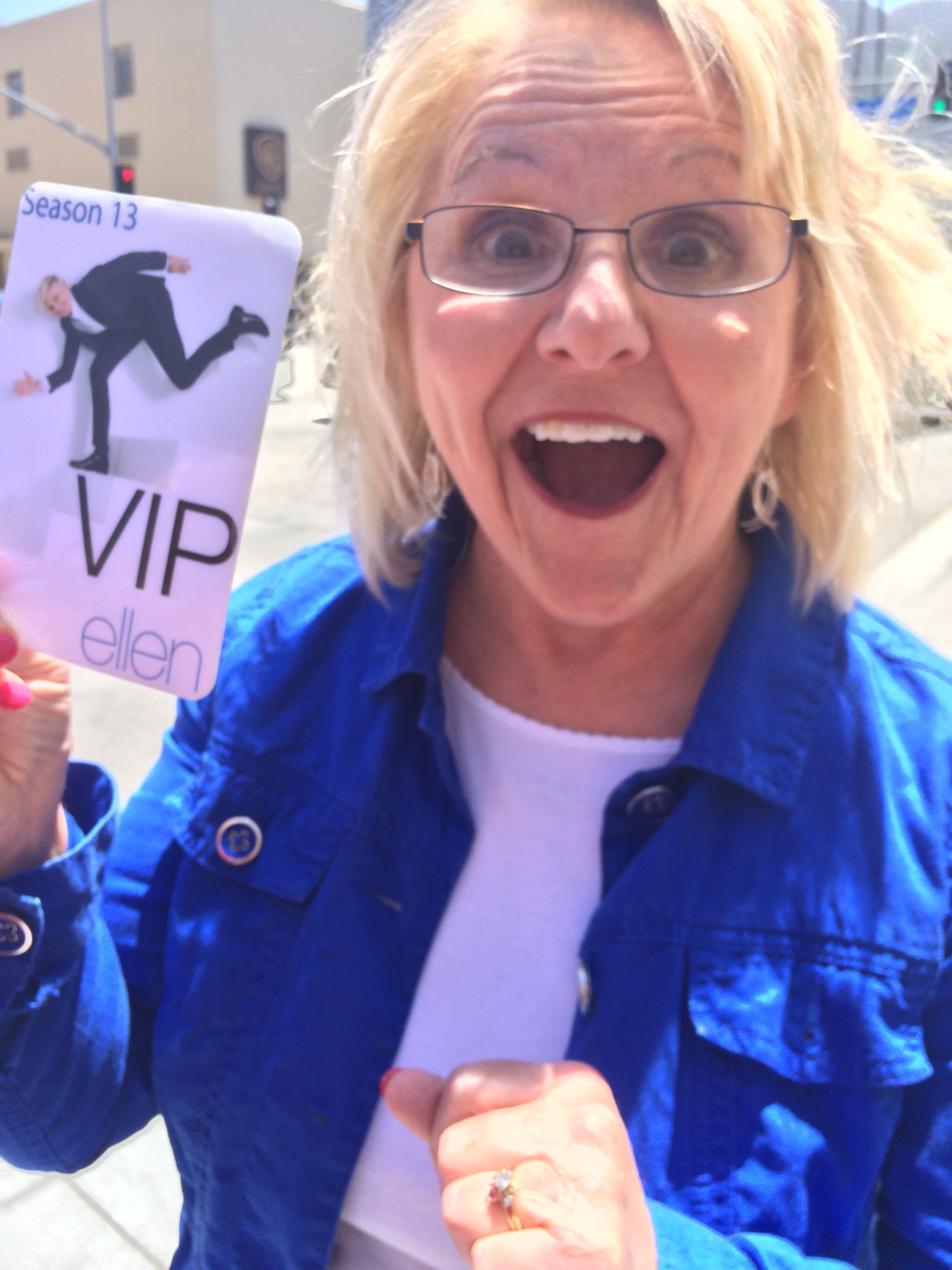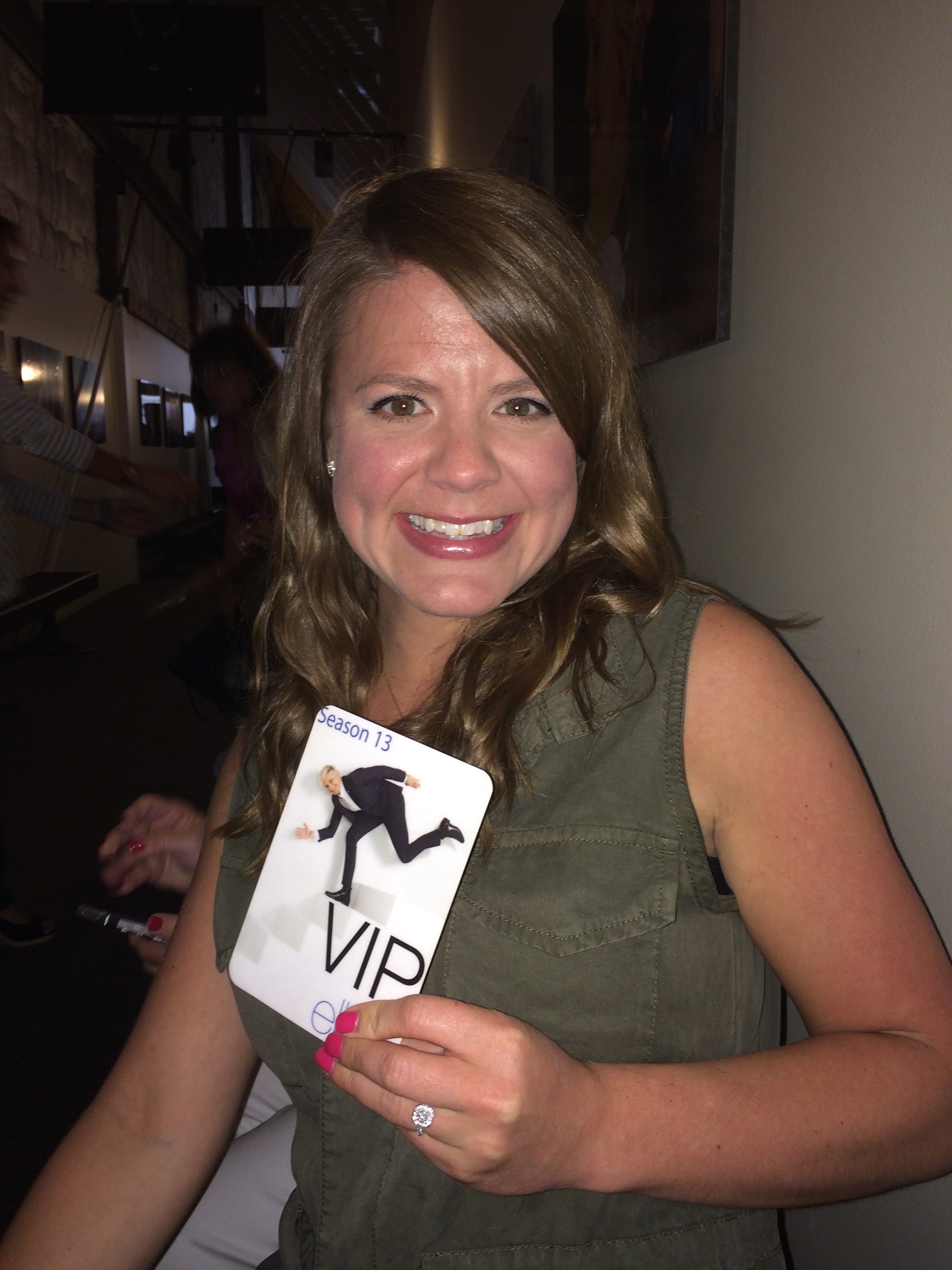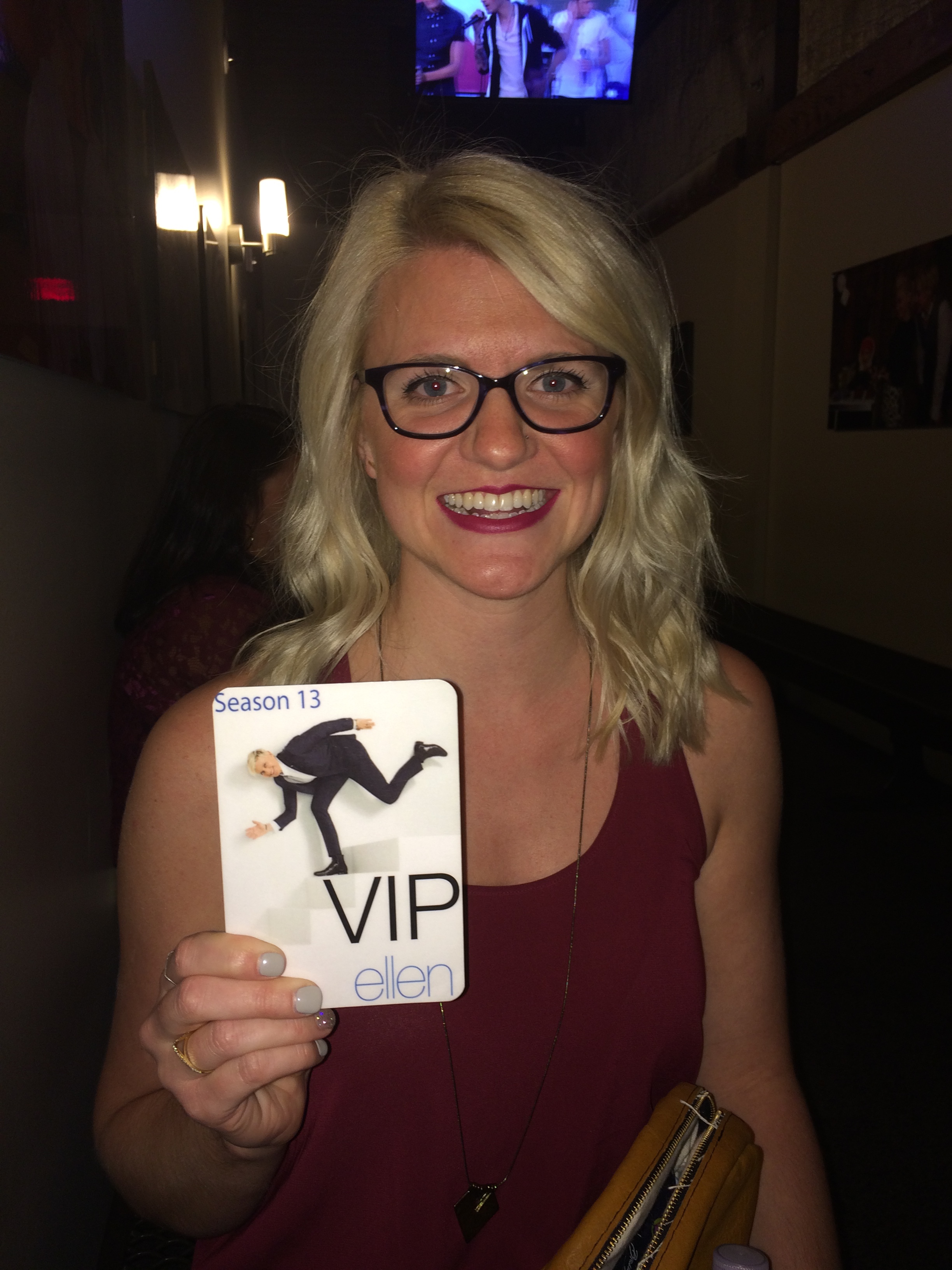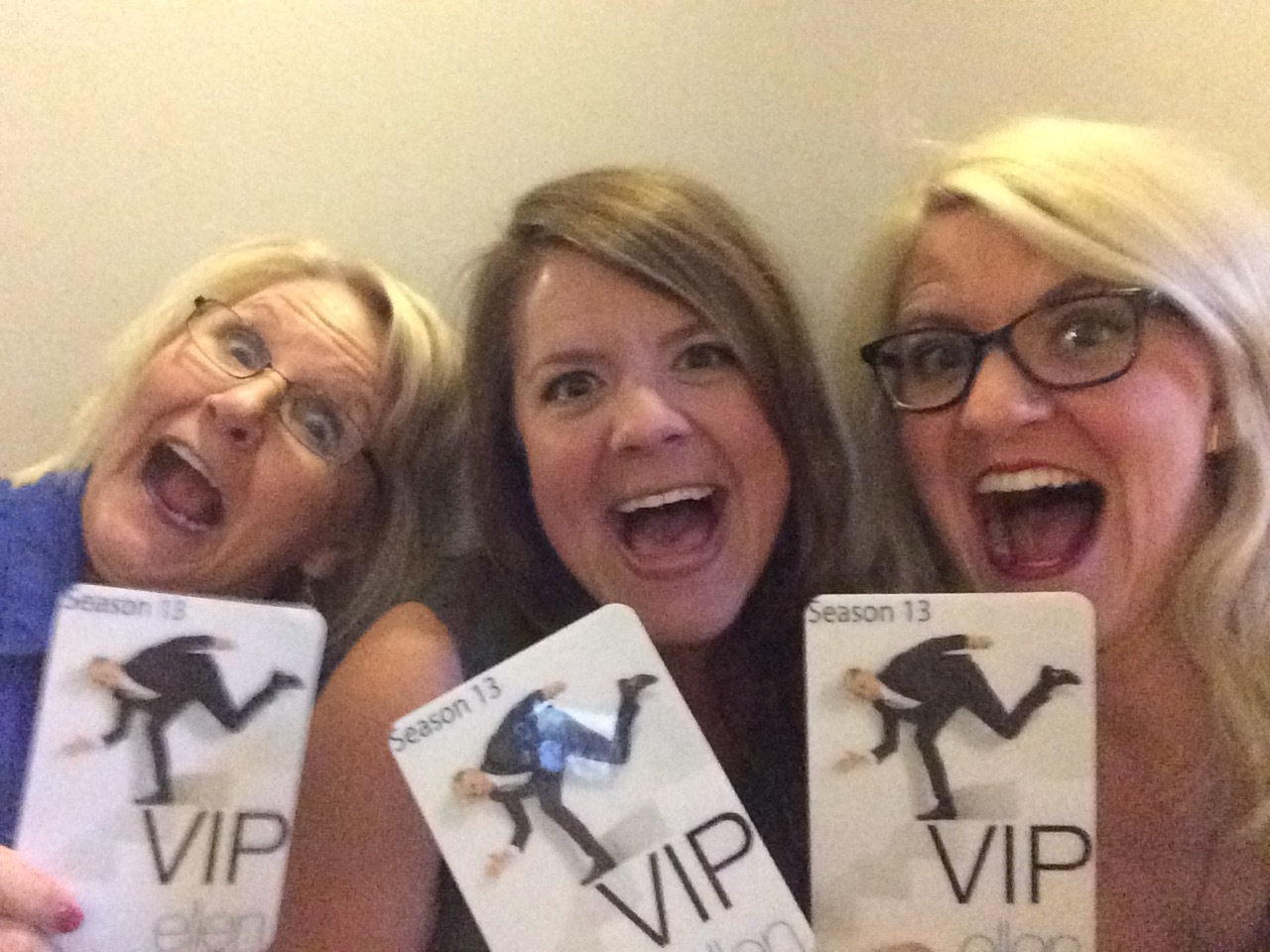 Entering the building, we made our way through metal detectors; which, if you watch Ellen regularly is the spot where Justin Bieber pranked some audience members. (Unfortunately, I was not quite as lucky as those women.) After 20 minutes of giddy chatter, numerous selfies and loads of anxious excitement, doors were opened to reveal the Riff Raff room full of Ellen gear sold by Ari the intern. We were escorted to the far end of the room to await invitation into the studio. About 30 minutes later, the moment came and all the VIP pass holders made an organized, yet, hustled dash for the staircase leading to the studio. Tense with anticipation, I was elated when we were directed to the 2nd row, a mere 10 feet from Twitch's DJ booth.
The exhilaration in the studio was electric. As the "audience director guy" got us dancing, informed us of the air date, and demonstrated signals of when to amp up our applause, the energy swelled. And then, without a moment's warning, the stage doors opened and out twitched Twitch! Being a fan of Twitch since his beginnings on So You Think You Can Dance, this alone was a milestone. Dancing right past me up the aisle, I gaped in awe at his flawlessly timed, ticking perfection.
Just as suddenly as Twitch hopped out, the audience director simply said, "… and here's Ellen!!" The anticipation in the room exploded into euphoric joy and pent up excitement spewed from my body. Completely overwhelmed by the surprise and the fact that Ellen was about 15 feet in front of me, I couldn't resist the tears that welled up in the corner of my eyes. A little weak in the knees as I clapped and cheered my heart out, I fought the urge to reach out and hug Ellen as she danced right past me. It was surreal.
From there, the rest of the show was a blur. Christina Aguilera, Bryce Dallas Howard and Kym Douglas were the guests for the day. Commercial breaks were filled with music and dance battles as Ellen received direction from her production team and prepped for the next segment. Per usual, she ran a smooth and joy-filled episode. (And we won $150.00 courtesy of Sherwin Williams!)
My favorite part of the episode was a part that didn't air. Instead of rushing off after the taping wrapped, Ellen stopped to speak to us. With her sweet, gentle spirit she thanked us for being there and commented on how great the energy was and how much she appreciated us knowing some had traveled from afar. Her caring and generous personality is not just for show, it's legit; and that's why I love her so much. Then, with a pump-worthy jam, Ellen and Twitch met in front of the stage doors and danced together. Singing and grooving to the music with smiles on their faces, simultaneously they waved and exited the studio.
Re-living this day, I am still overwhelmed. In John 10:10, Jesus said, "I have come that they may have life, and have it to the full." This day was most definitely full; and I have my incredible family to thank. Thank you SO much to my sweet sister for coming up with the idea and to my mom, dad, uncle, and husband for making it all happen. The note was 100% right, "What better way to celebrate your 30th birthday than to get your dance party on…"
If you have the chance to celebrate, don't hesitate. There really is something to the practice of celebration. It's an opportunity to experience an electric, euphoric, indescribably full kind of joy. Plan something unbelievable and party your pants off.