Birthdays have always been a time for celebration in my family. Looking forward to my big 3-0 I knew that this year could be no less. Known as an infamous milestone of transition into a new decade I decided I wanted to enter my 30's with a fabulous bang. And with that, my 1920s birthday party idea was born.
Having dreamt of throwing a Gatsby party for years, ideas were flowing - I was ready and excited to make this a fabulous soirée. I put quite a bit of thought and work into this (maybe a bit more than I'd like to admit) but it was so fun to channel my inner party planner and get creative. Full of lots of glitter, diy décor, appetizers, a signature cocktail, photobooth, and of course a password to get in - everyone at the party had a BLAST. So, without further ado, I'd like to share my party with you.
INvites
Knowing that I wanted the guest list to be a bit bigger since it was my big 30, but also small enough that I didn't have to be in full on host mode, I landed on 30 guests and got to work on the invites. I found the perfect template and built my own custom invite via picmonkey. I spent a few hours designing and was really excited with how they turned out. I saved the images to my phone and sent them off to my guests via text. Easiest, most convenient invite process.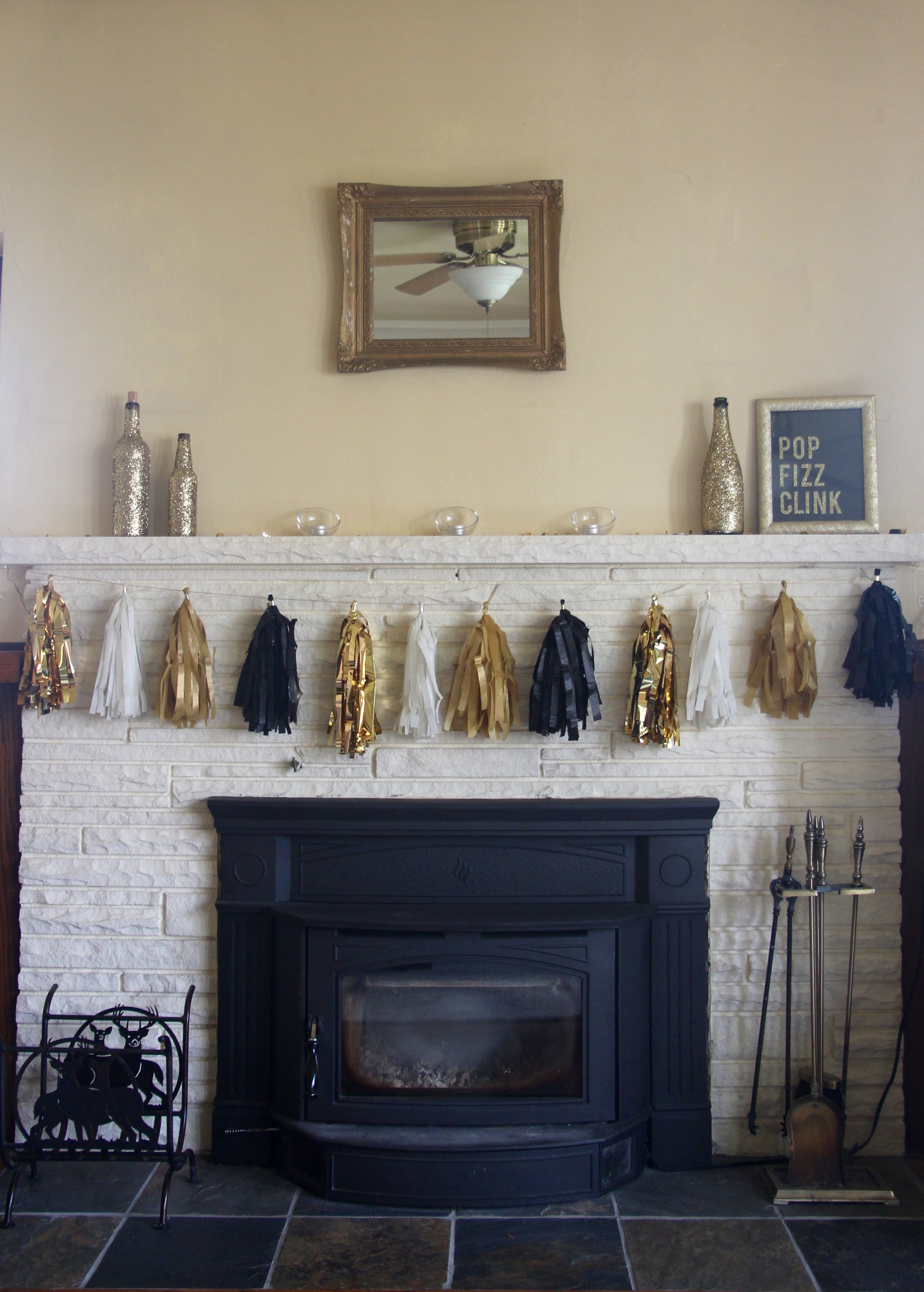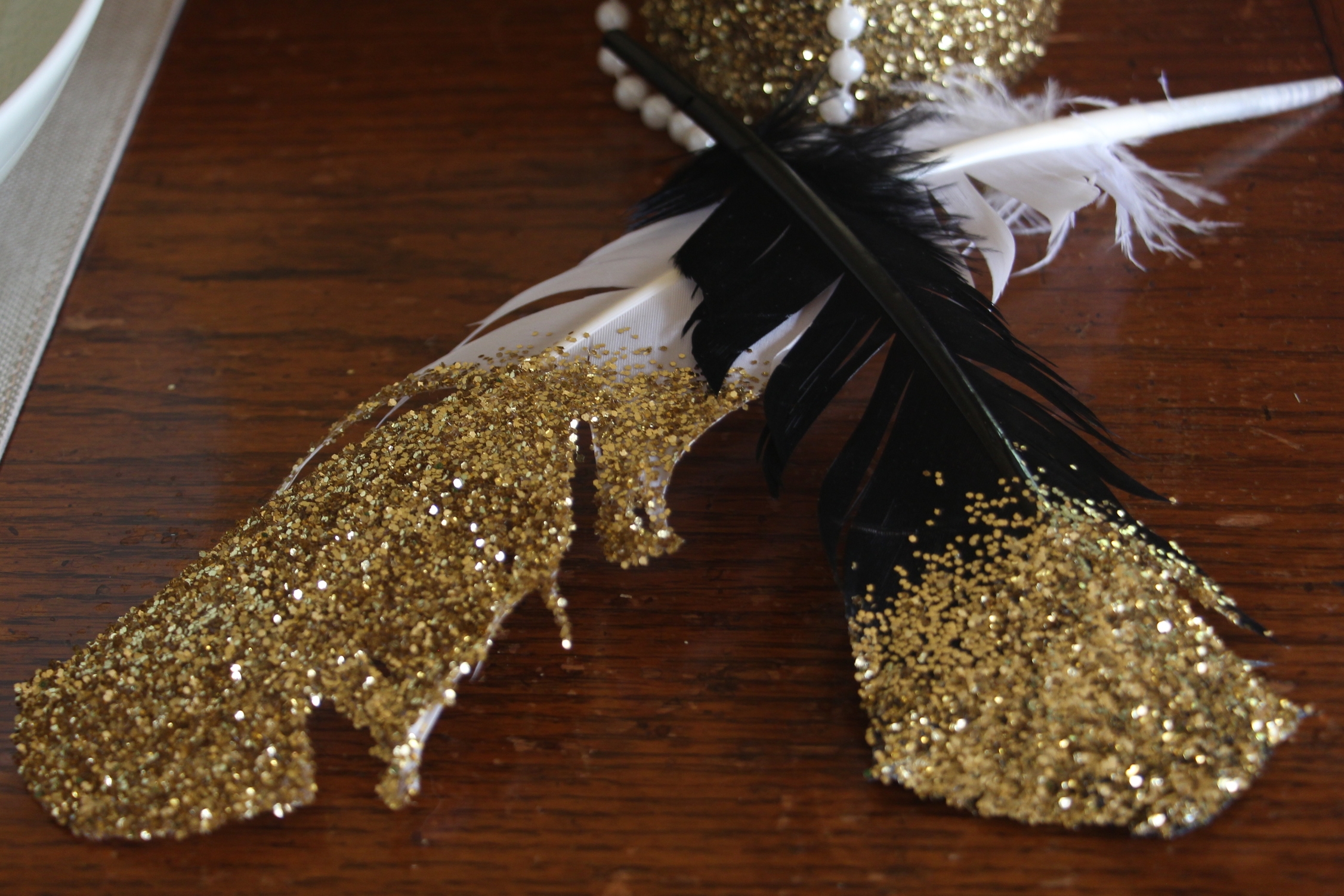 diy tips:
For the glitter champagne bottles:
I used Krylon High Adhesive Spray, Gold glitter, and Mod Podge Acrylic Sealer. Spraying the sealer to set the glitter is incredibly important unless you want glitter to fall off every time you move the bottles.
For the tassel garland:
The gold, off-white and black tissue paper, gold tape for around the top of the tassels, and the gold string were all found at Target. The metallic gold tissue paper was a bit harder to hunt down, but I found it at Michaels.
For the signs:
There are tons of free Gatsby-inspired fonts for you to download. After my husband found this link, I downloaded a few fonts and started designing. Printed on a few gold, glittery pieces of cardstock and popped into some frames I had at home, the signs worked out great.
Food
Since this was a classy soirée my husband and I went with an appetizer spread of cheese and veggies, caprese skewers, Italian pasta salad, delicious Asian meatballs, and of course CAKE! My brain was in full party-mode once the food was out, so all I have is a pic of the gorgeous and delicious cake made by my friend Kelli.
Cocktails
At the Larsen Speakeasy, we wanted the cocktails to be a highlight. We landed on a mix of bourbon, gin, and vodka, as well as a plethora of craft beers. We bought supplies for a few craft cocktails and decided to make a signature cocktail. The Last Word, a tasty craft cocktail from prohibition times was perfect. Upon arrival, each guest received The Last Word served in a mixture of vintage champagne coupe glasses from a local antique store. It was a HUGE hit- they kept coming back for more. This is a cocktail you'll want to try.
Hint: the recipe calls for Green Chartreuse which is $50.00 a bottle!! Skip that and opt for a slightly cheaper, but just as tasty option Dolin Genepy des Alpes. You'll save $20.00 and won't miss out on any flavor.
ATTIRE
I was incredibly impressed with how everyone went all out for my party. Everyone looked fantastic and from the sounds of it, had a great time putting together their outfits. I decided to go a little out of the box and found this gem on Amazon. At 34.99, it didn't break the bank, and added the glitz I needed as the birthday girl ;)
For the women: the easiest way to turn a standard little black dress into 1920s is to add a little fringe, a boa, some long black gloves, and of course a headband. Throw on some pearls, some red lipstick and you're set.
For the men: suit up dudes! Bow ties, suspenders, a mustache and a fedora make it simple to transform into a 1920s gentleman. Or, go all gangster and throw in a tommy gun.
Tip: To add a little motivation, I texted our guests a week before the party informing them there would be a prize for the best dressed male and female. With the votes in towards the end of the party, the winners were chosen and awarded their prizes- mini champagne bottles.
Need some inspiration? – google 1920s party attire, or check out our Photo Booth pics below!
PHOTOBOOTH
This was definitely the part I was most excited about and was probably the biggest hit of the party. Who doesn't love a good photobooth? It brings an extra piece of fun to the party and gives guests an activity throughout the evening.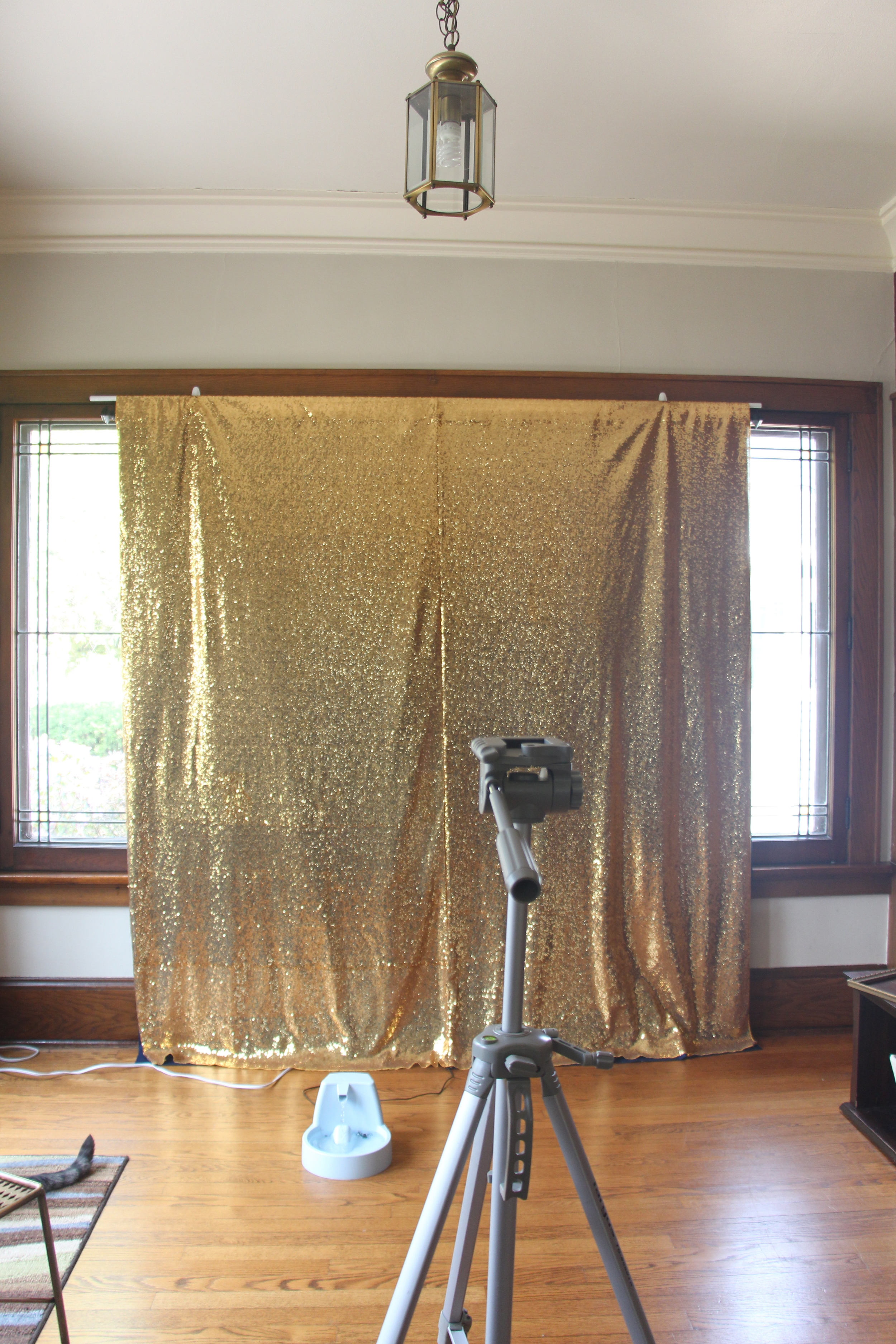 After a lot of searching and reading reviews, I found this amazing backdrop on Amazon. Thanks to good old Command hooks, I hung the backdrop in our entryway giving the photobooth a space all to itself. With diy props like a mustache, top hat, lips, and glasses, (traced on my computer and glued on straws I purchased for the bar cart) mixed with some random costumes from Halloween, the selection was a great hodge podge. With the option of using a selfie stick, or my Canon DSLR set up on a tripod with a remote, the tripod ended up being the way to go. Lining it up the night before, and marking the spot with tape on the floor in case it got bumped (which it did) the tripod worked out great. All it took was showing a few people how to use the remote, and the photobooth was in constant use for the entire evening.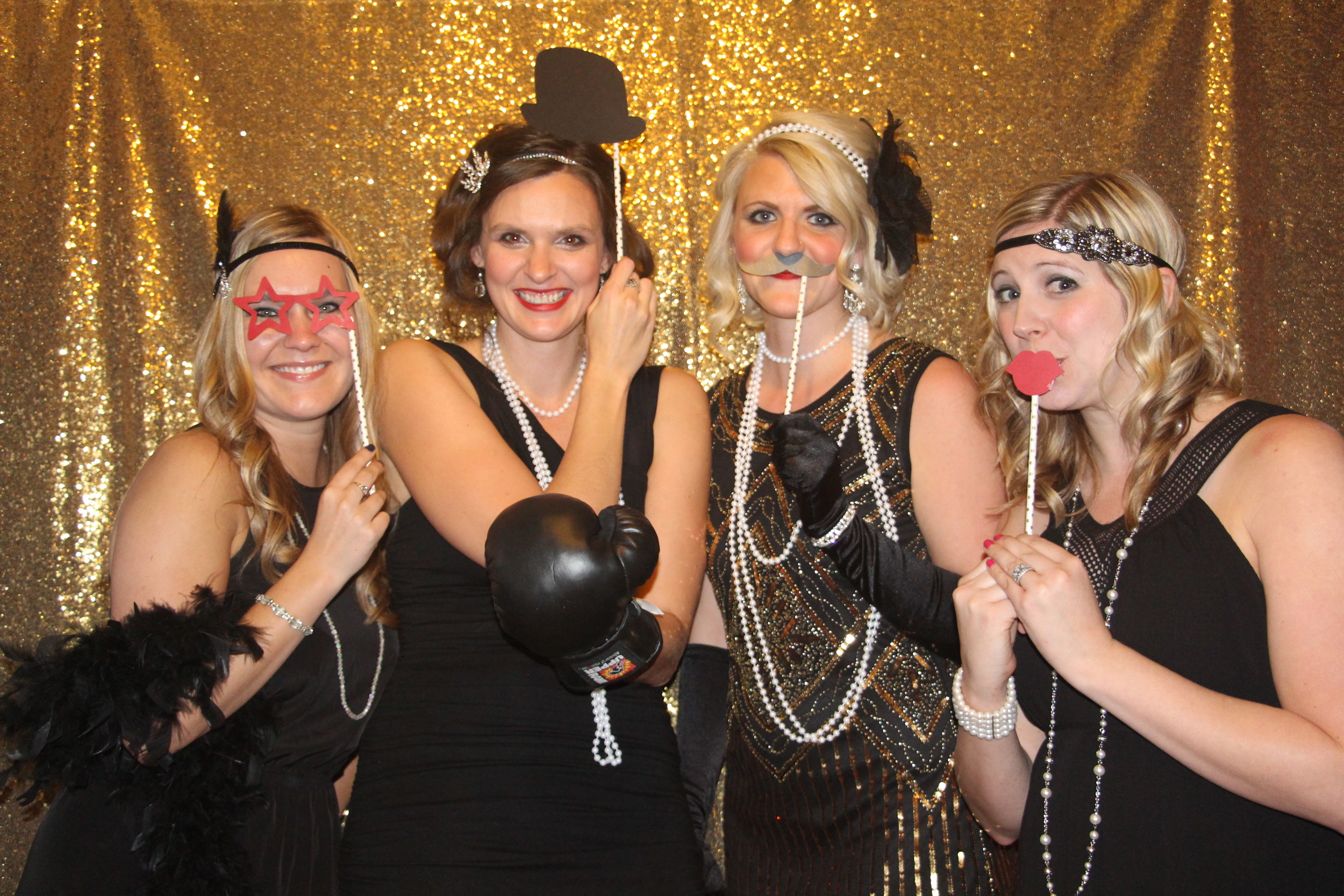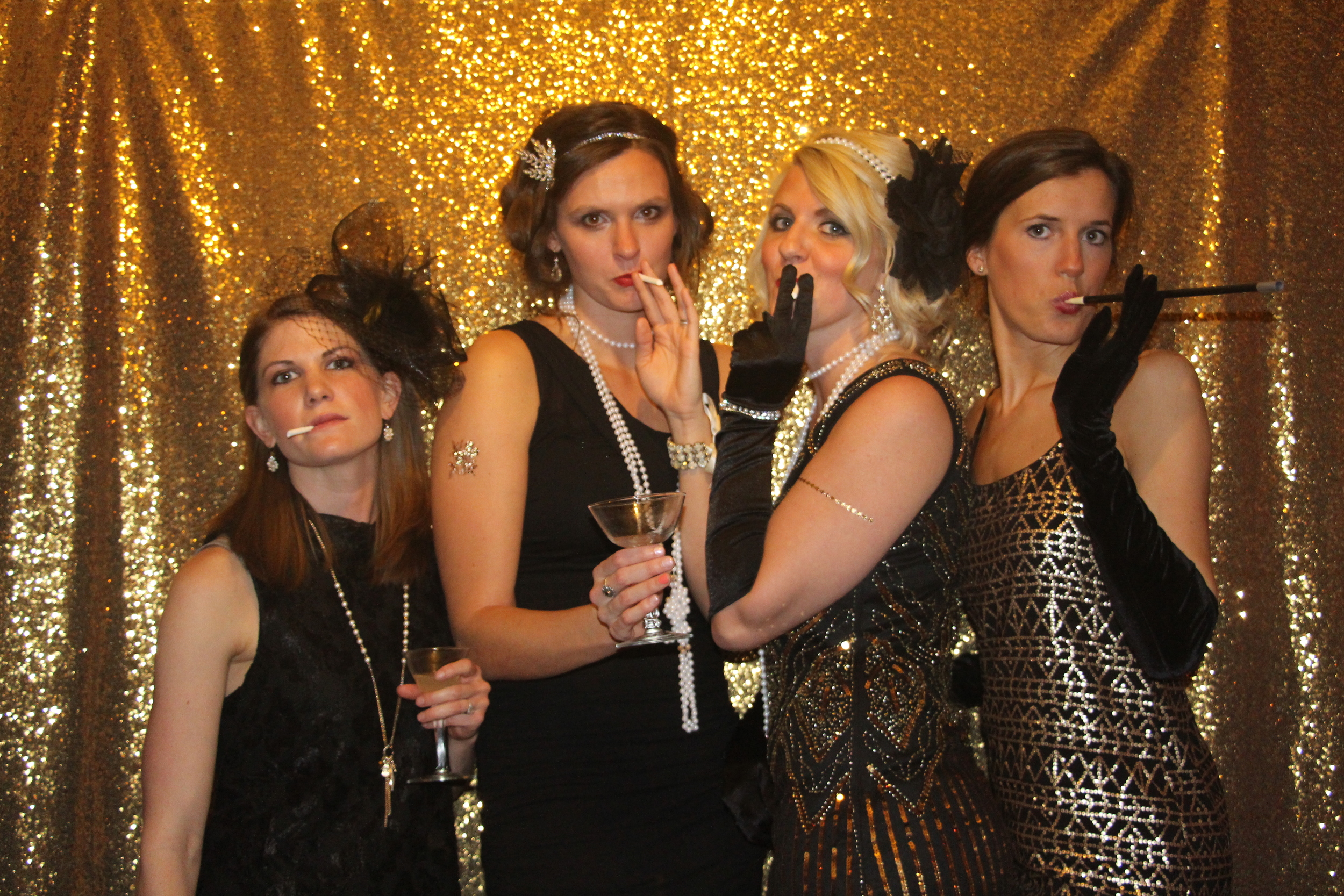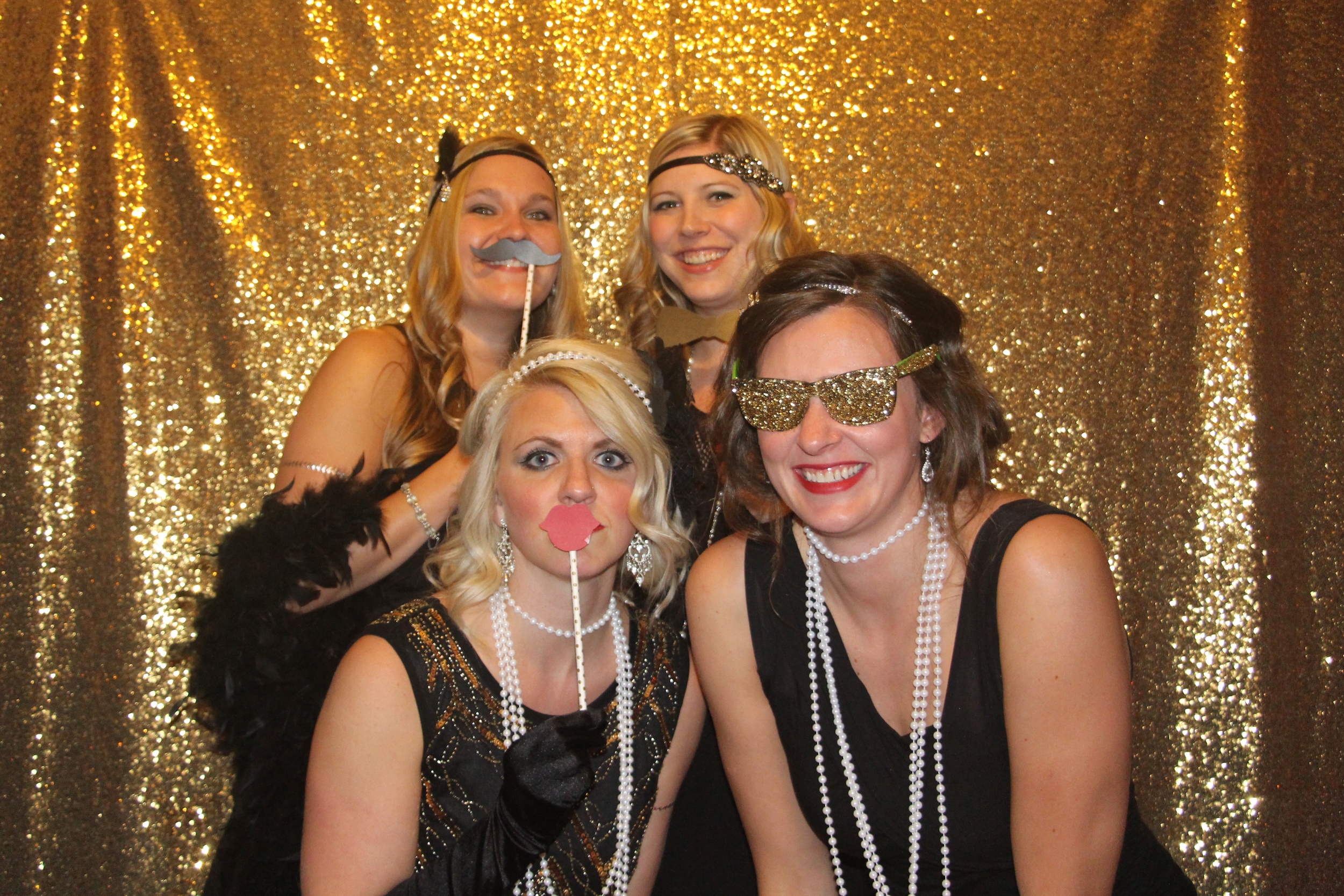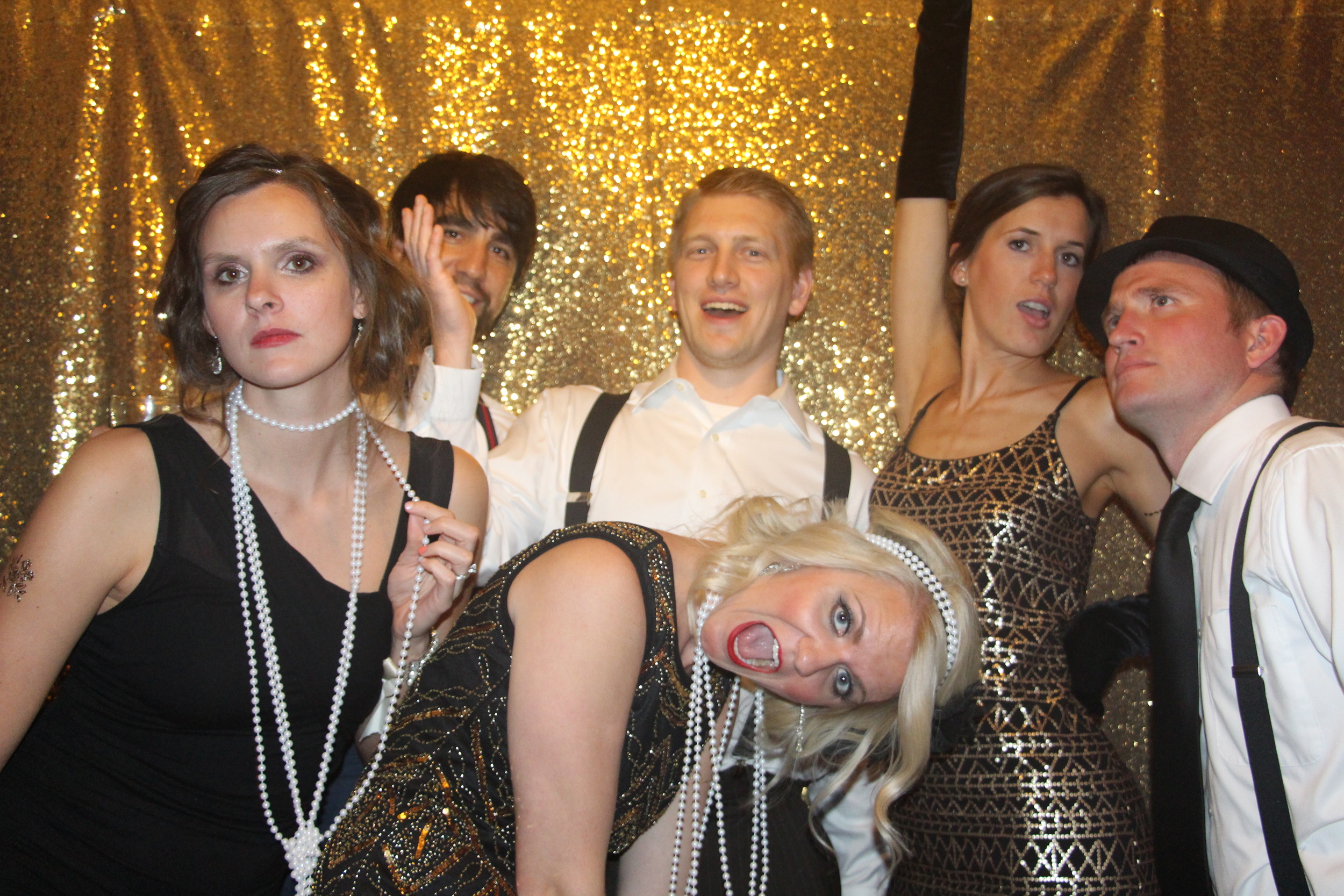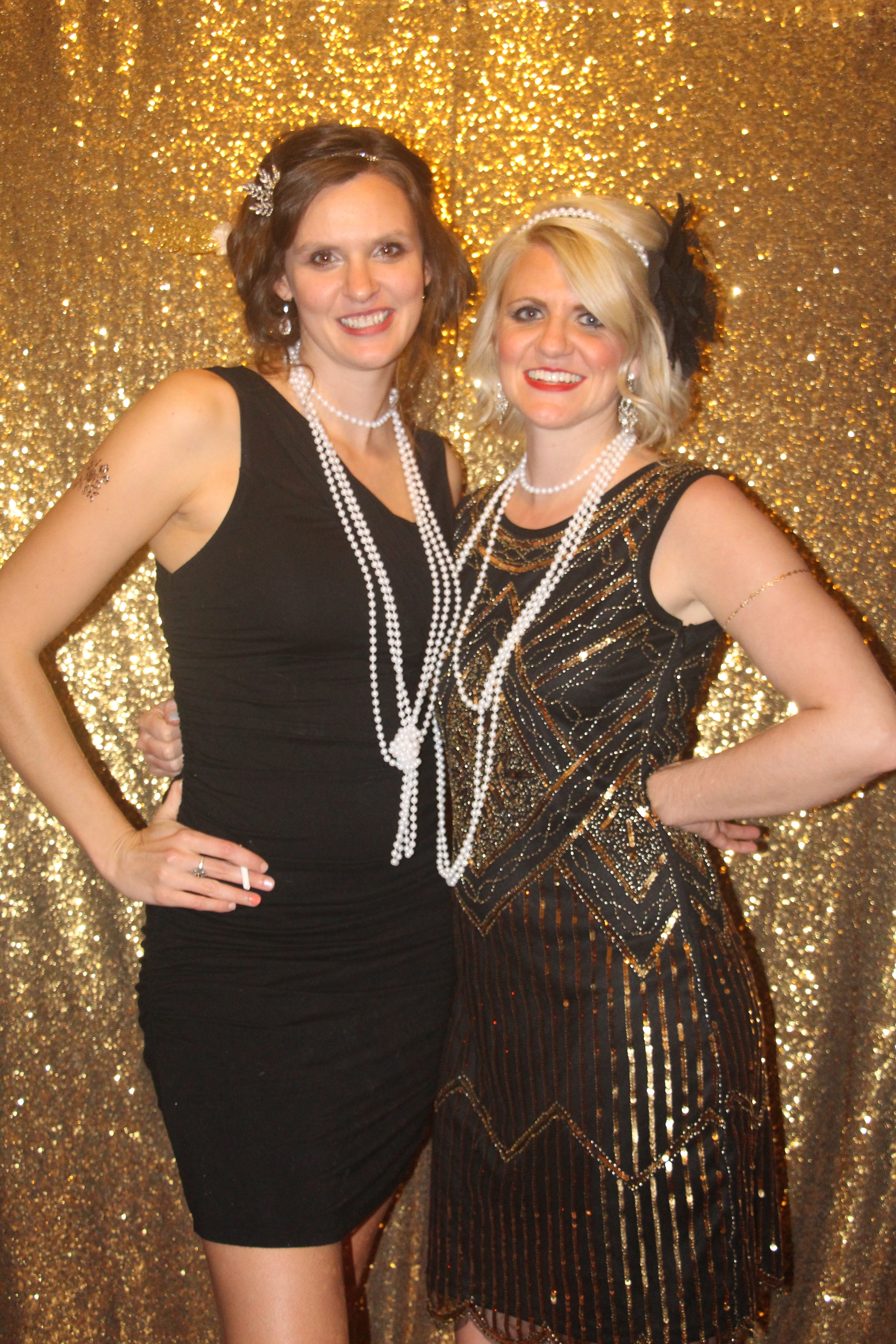 the details
If you're throwing a 1920s party, the fun is in the details.
Password
The morning of the party I finally revealed the password to my guests. I texted them the following message, "Dearest friends, the day has come for the soirée at the Larsen Speakeasy!!! And with it, it's time for the password. Upon arrival at insert address, make your way up the driveway and find the backdoor. Ring the doorbell to announce your arrival and enter. Dust off those shoes and enter the kitchen. Head to the brown door and there, you'll find further instructions on how to use your password. The password is ZOZZLED."
Once inside the kitchen, on the door was a sign that said "Knock 3 times, say the password, and wait…" It was so fun to be inside the party, hear everyone hush as three knocks were heard and ZOZZLED was shouted through the closed door. After hearing the 1920s slang word, the door was opened and the party began.
Candy Cigarettes
Having loved Candy Cigarettes as a kid, I purchased a box from Amazon as my party favor. It was too funny to watch people holding their cigarettes and smoking the night away. I'd highly recommend these as an addition to your party.
The raid
Last but not least, the raid. The whole purpose of a speakeasy was to drink during prohibition without the cops finding out. So, to add an element of surprise for my guests I organized a raid. My parents are the sweetest, most loving, and always up for fun, so I knew they would be the perfect ones for the job. As soon as I presented the idea to my mom she was off on the hunt for the attire of a 1920s cop. Once all the guests arrived and darkness fell, my parents shined flashlights in the windows and pounded on the door. Quickly, I ran over to turn down the music, acted as scared as possible and said "Oh my gosh, QUIET! The COPS are here!" With a loud scuffle the cops bust in with flashlights and billy clubs and threatened to shut down the party. The guests went wild. Seeing the surprise on their faces as they recognized my parents was a hoot.
looking back
This might be my longest blog post ever, but I'm so glad I had the chance to look back, document it and maybe help someone plan their very own 1920s party. I thoroughly enjoyed saying farewell to my roaring twenties at the Larsen Speakeasy. It was a lot of work, but the fun was in the details and I would do it all over again. Watching my guests enjoy themselves and hearing remarks of how much fun they had at the party made it all worth it.
God created us to enjoy the lives that He has given us. He wants us to live them to the fullest, and soak up every minute. So don't let your birthday go uncelebrated. Put in the work, plan that party, and dance your pants off. You deserve it.